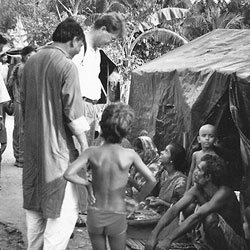 Health Survey
---
1979
The first Health survey among bidi rollers of different markets at Bhangar by M. A. Wohab together with Brother Gaston, Sabitri Pal and others.
---
1980
The establishment of a clinic along with pathological services in a converted tea shop at Bhangar.
---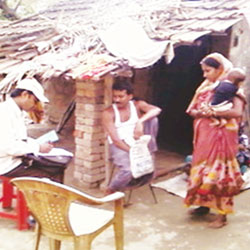 SHIS Volunteer
---
1981
Establishment of its two branches, one at Bhagawanpur and the other at Bodra both at Bhangar. Digging of deep tube wells for drinking water at Bhogali II and other Gram Panchayats of Bhangar. During a severe storm at Jharkhali, committed volunteers of SHIS carried out relief work alongside Seva Sangha Samity.
---
---
1982
Spread of clinical aid among the Т. B. patients of neighboring areas beyond Bhangar. The society was given its present name by our spiritual leader Br. Gaston.
---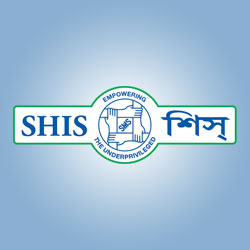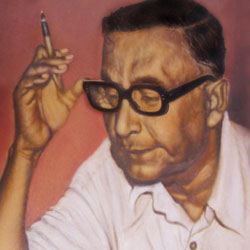 Buddhadev Mishra
---
1983
The registration of the Samity and the assumption of its independent status with the objective of improving the education, health, residence and socio-economic standards of the people of the locality. John Victor Pradhan inaugurated the present complex of SHIS and Bhangar Clinic which was named after Late Buddhadev Mishra, a well wisher of SHIS.
---
1986
The year of the first visit by Dominique Lapierre to SHIS. Lapierre is the author of the bestselling novel City of Joy, based on the life of Brother Dayanand Gaston.
---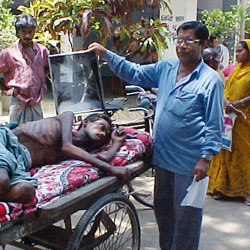 X-ray at Bhangar Clinic
1987
Started medical treatment and pathological tests of general patients. Sank tube wells for drinking water in different Panchayat areas. Started receiving Anti ТB drugs from the Central Government. Started X-ray at Bhangar Clinic with adequate help from Dominique Lapierre. Opening of Basanti Mobile Clinic. Tata Trust donated an ambulance.
Dr. Zeacoumar Chanemougame helped SHIS in the long-term treatment procedure of ТВ patients, which was of 18 months' duration. 1988: Commencement of the pathology unit of the Basanti Mobile Project. Construction of huts for the cyclone-affected TB Patients. The Basanti Rikshawpullers' Association donated a room to run the ТВ clinic at Basanti.
---
---
1991
In Bhangar, 192 low cost sanitation units and 10 tube wells were installed. Full Sanitation in Bhumru with installation of 200 low cost sanitation units and installation of 10 tube wells.
---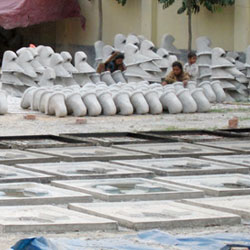 Sanitation Units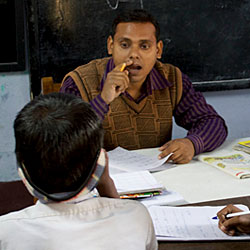 Deaf and Dumb School
---
1996
This year the biggest achievement of SHIS was the establishment of the Haroa ТВ Clinic at Peara. The Deaf & Dumb School was established in 1996 in response to the need for rehabilitation of the hearing-impaired children at Bhangar and other parts of the Sunderbans.
---
1997
Inauguration of the Floating Boat Dispensary by Dominique Lapierre to serve the sick in the Sunderban Islands. It is fully equipped with X-ray machine, pathological laboratory and wireless communication. It was initiated by Holland-based Mersion Group on its 100th anniversary.
---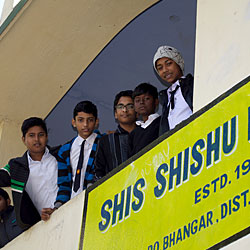 Shishu Bikash Academy
1999
In March, SHIS launched the Mobile Health Care Services (MHCS) in South 24 Parganas in collaboration with Health System Development Project – II, Govt. of West Bengal. Modernisation of Madrasa education programme launched in 25 villages in Bhangar I & II Blocks to make such education more relevant to the modern times. His Excellency the Governor Dr. A. R. Kidwai laid the foundation stone of SHIS Shishu Bikash Academy, aimed at providing quality education at affordable cost to the poor students of the region.
---
---
2000
The first SHIS Sanitary Mart Project launched at Bhangar. SHIS constructs low cost sanitation units to ensure better hygiene for the people and protect environment from pollution. Local people are engaged in construction of sanitary latrines and installation.
---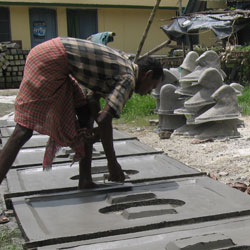 Sanitary Mart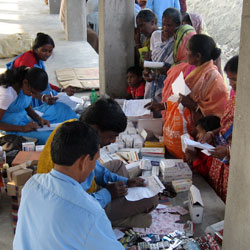 Mobile Health Care
---
2001
Mobile Health Care Services (MHCS) launched for South 24 Parganas. Also steps were taken to bring the 44 social offenders (dacoits) into the mainstream of the society through SHIS – Ashadeep. Dominique Lapierre inaugurated the programme by freeing 21 pigeons on the occasion of the 21st anniversary of SHIS.
---
---
2002
Government-NGO collaboration initiated with Govt. of India in the form of a Revised National Tuberculosis Control Programme (RNTCP) for 4 ТВ Units in North 24 Parganas. New wings of SHIS started in North Bengal, especially in the forest region of Jalpaiguri and Coocbehar, with General Clinic and Diagnostic facilities, mainly to control malaria in collaboration with the Forest Department of the Government, West Bengal. In September, in collaboration with CARE – West Bengal, SHIS started Community-Based Direct Observation Treatments (CB-DOTs) in three treatment units (TUs) in Malda, Murshidabad and South 24 Parganas.
---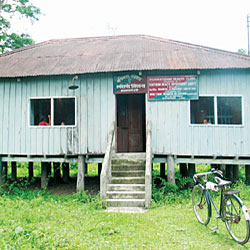 Clinic, North Bengal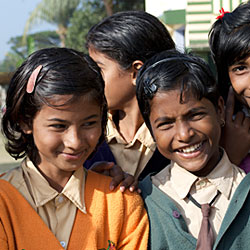 Girls' Academy
---
2004
Inauguration of Mini Hospital named SHIS Basanti Seva Kendra, on 11th of March. SHIS Girls Academy started to fill up the gap of quality education for underprivileged girls, as an extended part of Girl and Child focused education programme. In December, Dominique Lapierre received Sunderbans Seva Award, for his relentless pursuit to render social services. SHIS joined relief operation, as soon as the news spread regarding tsunami-affected areas in Tamil Nadu and the Andaman and Nicobar islands.
---
2006
On 15th April SHIS inaugurated its Malda Centre. SHIS Kandaran Project was also started with support from Irish Aid. SHIS – Dominique Lapierre Colony construction programme started for 60 families for the flood-affected people living beside the Phulahar River in Malda district. Emergency relief programme as well as reconstruction of houses undertaken for 100 families who lost everything in a fire at Chapra in Nadia District.
SHIS received the prestigious recognition from West Bengal Aids Prevention Control Society as well as permission to establish Voluntary Council and Testing Centre (VCTC) along with STD clinic. Extension of Mobile Boat Dispensary service of SHIS at Kultali Block in South 24 Parganas.
---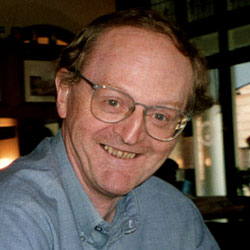 Justin Carroll – Irish Aid
2007
Permission received to start ICTC centre and Community Health Training programme. Reproductive & Child Health Project approved for Kultali, Kakdwip, Patharpratima and Namkhana blocks by Govt. of West Bengal.
---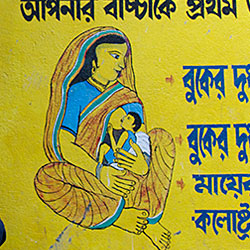 Delivery Centre
---
2008
SHIS started its Institutional Delivery Centre at Bayermari – II and Nazat – I in North 24 Parganas along with Rakhalpur under Patharpratima Block and the SHIS headquarters (Ayushmati) in South 24 Parganas. In the field of Civil Society Support Programme for West Bengal, SHIS with support from DFID-PRIA, implemented the programme for the first time in Murshidabad District.
---
---
2010
Sight Savers International entrusted us to run comprehensive Kolkata Urban Slum Eye Care Project. Proposals were mooted to run Global Fund Round 9 Project in additional districts of Jalpaiguri, Coochbehar & Murshidabad along with the existing ones.
---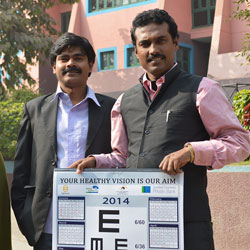 Kolkata Urban Slum Eye Care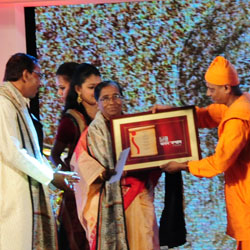 MA Wohab and Sabitri Pal receive award
---
2012
M.A. Wohab and Sabitri Pal received the Ghanta Ananyaa Sanmaan award for their service before self for development of the community for three decades.
SHIS won the Bid for Mobile Medical Unit under NRHM and Launching of Mobile Medical Unit from the month of August.
---