The SHIS Mobile Boat Dispensary is an essential service in the remote, inaccesible islands of the Sunderban region. They provide medical care to the marginalised people who, in many cases, have no other source of health care.
---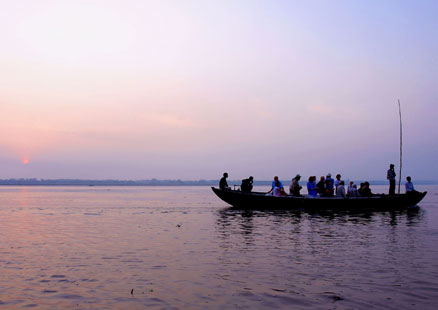 The Sunderbans is the largest area of tidal mangrove forest in the world. It is a UNESCO World Heritage site and home to over four million people. Sundarban means "beautiful forest" in Bengali.
Life in the Sunderbans
The Sunderbans is an inhospitable environment but many people continue to live on the islands to exploit the natural resources. The forest provides the materials for wood-based industries. Tidal water is ideal for farming of fish, crustaceans and molluscs. And the mud of the river banks is used by the many brick-making factories in the area.
Among the many perils of the Sunderbans are predators. The Bengal tiger roams the islands and regularly attacks humans. Between 30 – 100 people are killed per year. Two species of crocodile roam the waterways, the Saltwater Crocodile and the Mugger Crocodile.
For the locals this is an essential and, in many cases, the only health care service.
Mosquito-borne diseases are a great risk, particularly Malaria and Dengue Fever. Respiratory, gastro-intestinal and skin problems are rife. It is estimated that two-thirds of children are afflicted by one or more of these treatable ailments. The inaccessible environment makes rapid response and treatment very difficult.
Mobile Boat Dispensary Service
The conditions of the marginalised poor of the Sunderbans compelled SHIS to establish the Mobile Boat Dispensary Service. It provides free mobile health care to the remote, inaccessible islands.
Dominique Lapierre donated four fully-equipped boats along with two speed boats as mobile emergency ambulances. The boats have been designed to provide both medical and diagnostic services. For the locals this is an essential and, in many cases, the only health care service.
---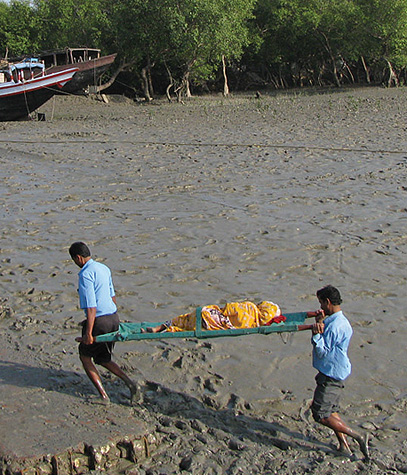 Often during low tide patients must be carried by stretcher to the mobile boat clinic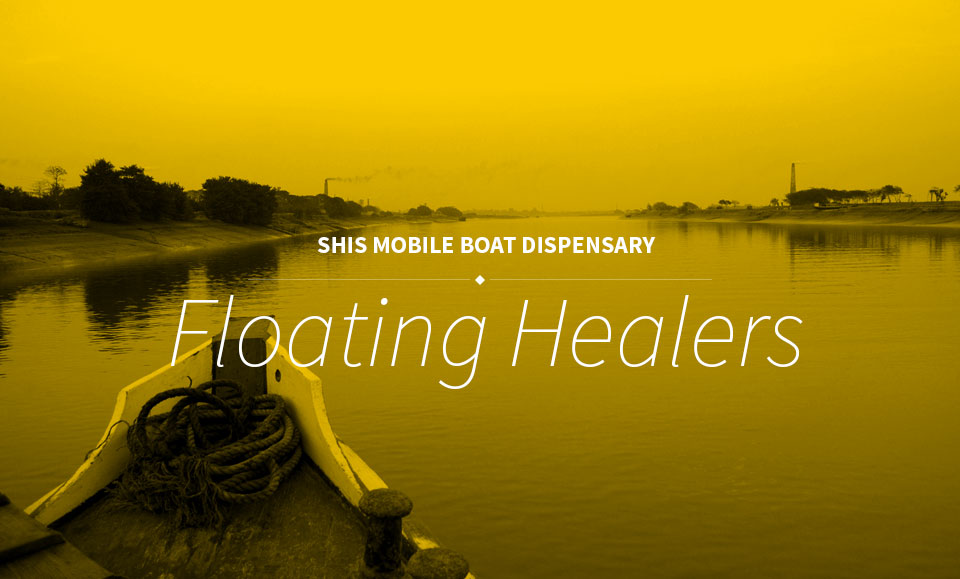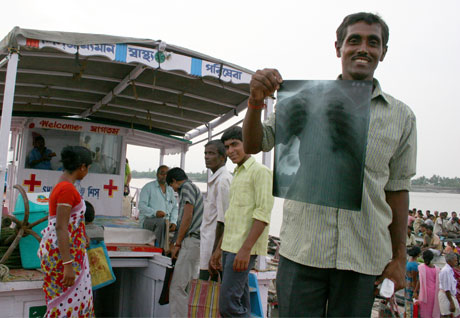 Each Mobile Boat Dispensary includes:
Accomodation for 10 people
A health clinic, including bed, saline stand, oxygen cylinder, etc.
Mobile X-ray
Pathological Unit
Medical store room
---
Mobile Care Objectives:
General year-round health care
Emergency health care during the flooding season
Treatment and vaccination
Analysis of the sanitary situation in the villages
Dispatching the more serious cases to local hospitals
Training of local staff
OUR PARTNERS IN MOBILE HEALTH CARE